Raile's in Ohio

Potter's Wheel, Zanesville, Ohio, postcard featuring J. Fred Raile, right (courtesy of J.E. Raile and Joe Raile)

J. Fred Raile, Ralph A. Raile, George F. Raile, John E. Raile

Fred and Edith Raile's 50th Wedding Anniversary

Back row (l to r)Walt Fisher, Ruth Raile, Joe Raile, George Raile, Betty (Raile) Hiles, Max Hiles.

Next row (l to r) Thelma (Raile) Fisher, Ralph Raile, Ruth Raile, held by Winifred Raile, Julia Raile Kenneth Raile Next row (l to r) Edith, Fred and Freddie Raile Front (l to r) Martha Raile, Nancy Fisher, Gary Hiles, John and John Allen

Marriage certificate of Fred and Edith (Morgan) Raile, married November 9, 1896 - click to enlarge

Jacob Fredrich Raile came to America from Plochingen, Germany, and homesteaded in Kansas and later moved to Wauseon, Ohio, and then to Zanesville, Ohio. He married Catharine Lundy.
Jacob's family were
potters
in Plochingen and the family trade was continued in Zanesville, Ohio, home of well known potteries including Hull, McCoy and Roseville.
Jacob Fredrich Raile - father - born in Germany in December of 1846 and died in 1936 in Ohio
Catherine Lundy Raile - mother - born in West Virginia of German parents on Janaury 1856
Their children:
Frederick Raile
Charles Raile
Otto Raile
Margaret Raile (Haehnien)
Hermann Christian Edward Raile - born 1887, died 1968
Hermann Christian Edward Raile married Eva L. Morrison and their children included Herman J. Raile born November 17, 1918. Hermann J. married Mary Jean Fowble and they had two children named Karin Therese and Gerhard Konrad Raile.
Dr. Hermann J. Raile did the initial research of the Raile family in the 1960's. He traveled to Plochingen, Germany, and extracted family data from the church records. He also compiled current (1960's) Raile history and copies of his work were distributed to various family members. This body of work was the nucleus of all subsequent Raile research. Much graditude should be given to this man for his endevors.
Dr. and Mrs. Raile live in Menomomie. Wisconsin.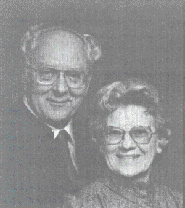 Dr. and Mrs. Hermann J. Raile
Obituary of Mary Jean Raile, wife of Dr. Hermann J. Raile
Dunn County News, Wed, Nov. 14, 2001
Mary Jean Raile, age 81, of Menomonie, died Saturday, Nov. 10, 2001, at the Area Nursing Home in Colfax.
The former Mary Jean Fowble was born Aug. 13, 1920, in Arcanum, Ohio, to G. Clifford and Frances Verl (Brown) Fowble. She married Hermann J. Raile on Sept. 27, 1940, in Arcanum. They moved to Menomonie in 1948.
Mary Jean graduated cum laude in 1953 from the University of Wisconsin-Eau Claire with a bachelor of science degree. She worked as a receptionist at the Hjeltness Chiropractic office for 17 years. Mary Jean was very dedicated to the Menomonie community, including serving more than 40 years for the Mabel Tainter Memorial.
Mary Jean is survived by her husband, Dr. Hermann J. Raile of Menomonie; one daughter, Karin Raile of Winona, Minn.; one son, Gerhard (Cherie) Raile of Hudson; three grandchildren, Kaethe (Corey) Gallagher of Earlville, N.Y., Dieter Raile of Hudson, and Steffen Demeter of Sterling, Colo.; and one great-grandson, Liam Gallagher.
She was preceded in death by her parents and one brother, John Lowell Fowble.
Memorial services are 3:30 p.m. on Thursday, Nov. 15, 2001, at the Olson Funeral Home in Menomonie with the Rev. Geoff Scott officiating.
Friends may call one hour prior to services Thursday at the funeral home.
In lieu of flowers, the family requests memorials to the charity of choice.